A CASE STUDY
PROBLEM: WHY DID THE PLASTIC WATER FILTER FAIL?
Water filters are pressurized containers that are molded using plastic. Pressure surges inside of water filters, caused by valves suddenly turning on and off, can cause water filters to crack and leak if they are not properly designed and manufactured. When water filters fail when no one is around to shut off the water, costly water damages can occur.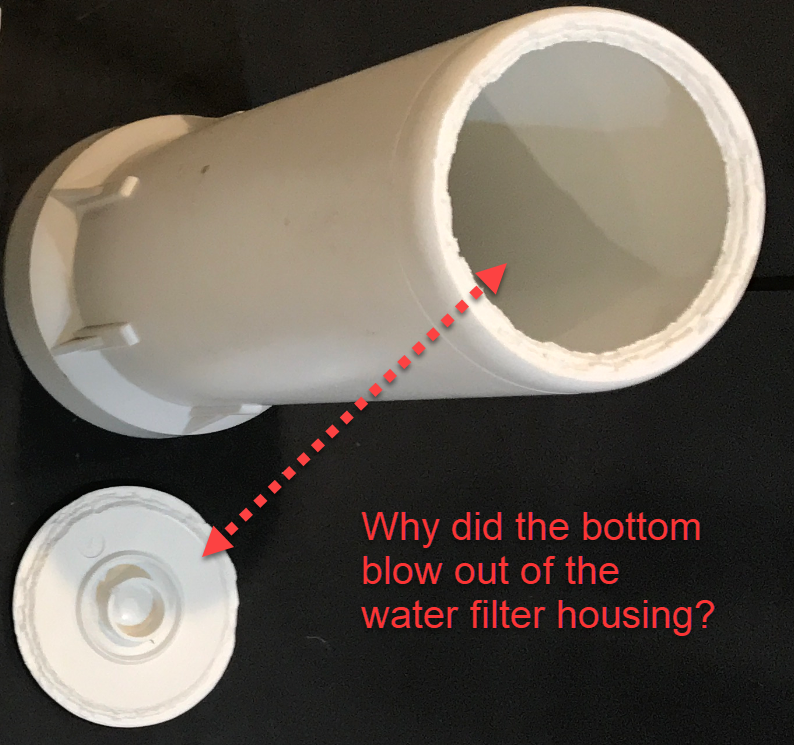 QUESTION: WHY DID THE PLASTIC WATER FILTER FAIL?
The failure of plastic water filters can be caused by:
manufacturing defects in the part
design defect
improper installation
improper operation
ANALYSIS: FORENSIC FAILURE ANALYSIS STEPS TO DETERMINE THE ROOT CAUSE OF FAILURE.
Step 1: How did the part fail?
Analyze the fracture surface of the broken part to determine if the part failed by:
Fatigue
Creep rupture
Chemical attack (environmental stress cracking)
Stress overload
Contamination
Step 2: Was the wrong plastic used?
Identify the plastic material by chemical analysis
Step 3: Was the design of the part defective?
Determine if there is a design defect using computer modeling and stress analysis
CONCLUSION:

THE PART FAILED BECAUSE OF A DEFECTIVE DESIGN.
You will never see a propane tank cylinder with flat ends because a pressure tank with flat ends would be likely to explode! A water filter canister is under water pressure, and like a propane tank, should have a domed bottom. A flat bottom is a design defect. If the water filter housing had been designed with a flat bottom, it would not have failed.